The order could not be shipped.
The order was successfully shipped.
With a view of the Cologne cathedral
K-Star Residence, Cologne
With a view of the Cologne cathedral the K-Star Residence is a new luxurious living environment has been created which offers both small apartments as well as lavish penthouse apartments. With the plastic-crystalline facade structure the Cologne architectural offices of gatermann + schossig and römer partner architektur have given the building a unique selling feature that corresponds with inner-city living.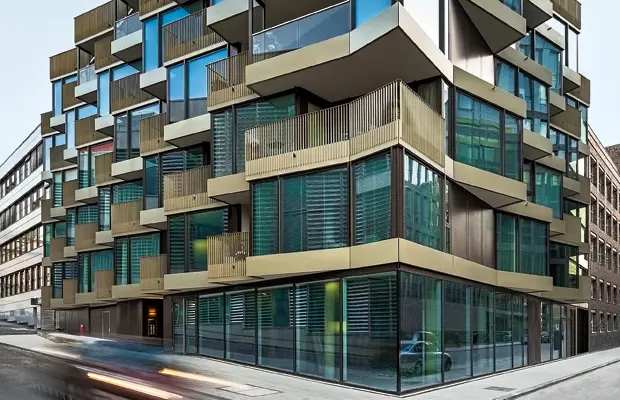 The K-Star Residence is located in the Kunibertsviertel and therefore in the best inner-city location with only a stone's throw away from the main railway station, the opera and the cathedral. The size of the smallest apartments is 47 square metres, the luxurious penthouse apartment on the roof stretches over 300 square metres. The apartments on the 4 lower floors are designed as open floor plans and of a size between 50 and 60 square metres. Starting from the 5th floor, the apartments reach sizes of up to 100 square metres. From this floor upwards, also the view of the cathedral, which is highly prized in Cologne, is guaranteed. Starting from the 6th floor, the facade slightly retracts, which creates encircling ring terraces with areas of up to 300 square metres. From here one's gaze can even wander far into the distance to Hadi Teherani's crane buildings in the Rheinauhafen.