The order could not be shipped.
The order was successfully shipped.
An interpretation with the means of contemporary architecture
Bauhaus, Dessau
Actually, the Director's House and the Moholy-Nagy House are known only through historical documents: Drawings, plans, models and photos. The Berlin architectural office called Bruno Fioretti Marquez convinced in spring 2010 with a concept that deals with remembering. They did not give priority to the reconstruction of the Bauhaus icons, but to an interpretation with the means of contemporary architecture.
The Berlin office Bruno Fioretti Marquez built the new master houses Gropius and Moholy-Nagy in Dessau.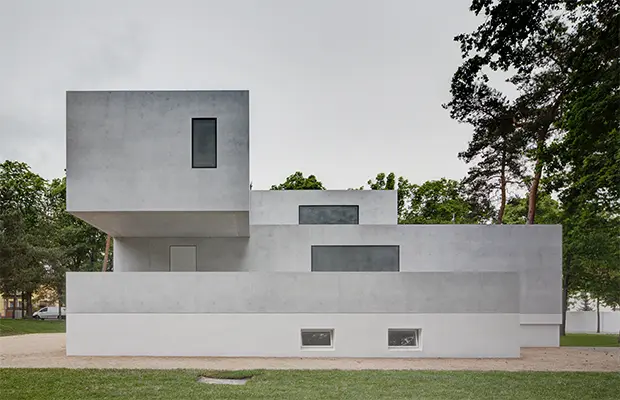 Reconstruction was also not an alternative for the architects, who came from Italy and Argentina, because it would not only have blurred the differences between the architectural origins, but also, like any copy, would call into question the legitimacy of the original. The principle of blurring as an inescapable component of memory was elevated to an architectural principle. Its design aims to fulfill the task of repair by reproducing the shell of the previous buildings. The visitor will recognize it as such through the choice of material and drastic reduction of details.
A shell of poured concrete, with recessed sunken glass surrounds a plastic "artifact" that fragmentarily records the original internal division of the houses. This reduction of the house into two elements allows for multi-layered readings. It is to be understood as a suggestion to add to the image of the house itself in thought and at the same time develops an independent composition, a tension between massive shell and light installation.