The order could not be shipped.
The order was successfully shipped.
Camera interface
Für einen besseren Überblick
Thanks to the camera interface, Busch-Welcome® can be connected to external analog cameras. The extended 180-degree viewing angle shows you the area around the front door - whether at the indoor station or via app on the tablet or smartphone. This means you always have the entrance area in view, for example if the camera's viewing angle is not optimal on site.
More information
Busch-Welcome® Konfigurator

App
Technology
2-wire technology
Function
Integration of up to 16 different analog video cameras
Retrofitting and expansion of video cameras
All further technical information about the camera interface for the Busch-Welcome® system can be found in our online catalog.
What makes the camera interface stand out?
1
Integration of external analog cameras
With the camera interface, other viewing angles can be realized as an alternative or supplement to an integrated Busch-Welcome® camera. A maximum of four camera interfaces can be connected to a Busch-Welcome® system. A camera interface can process the signals from up to 15 analog cameras. In addition, the camera interface includes an analog video output and thus the option to forward the recorded signal to external devices (e.g. DVR or TV systems).
2
Retrofit and expansion
The integration into the front-door station audio is possible without any problems and the previous base module 83140/xx can still be used. For integration into the front-door station video, it is necessary to replace the base module 83140/xx with a new base button module 83140/xx-101.
3
Various models of external cameras
We at Busch-Jaeger offer you three different models of external analog cameras for your door intercom system.
The external cameras are optionally available with a manually adjustable horizontal coverage angle of 30° - 90°, as well as a dome and mini-dome camera version.
Busch-Welcome®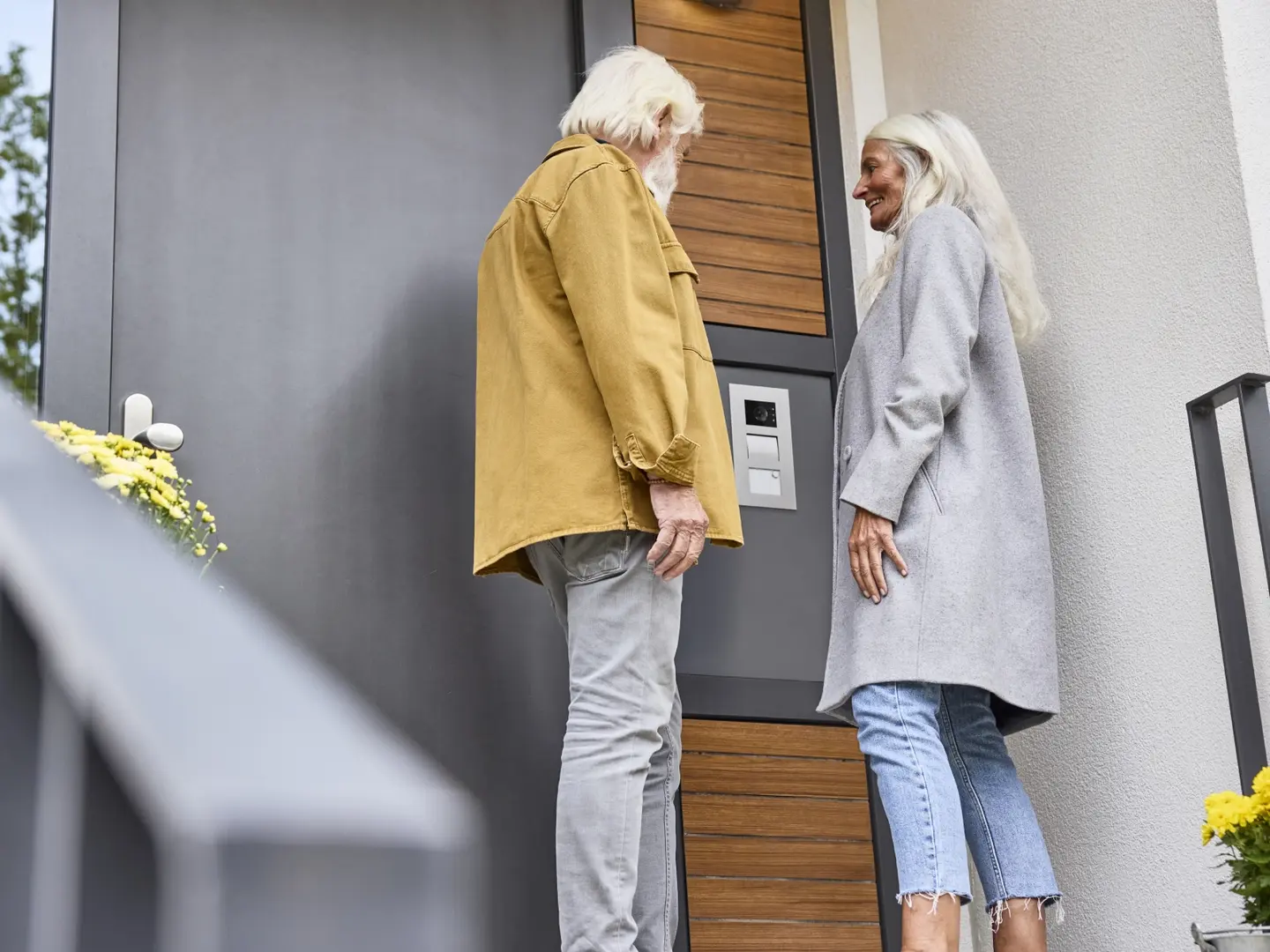 With Busch-Welcome® we offer you a solution for door communication based on 2-wire technology. The system has various functions and components and can be integrated into your Smarter Home. Discover the product variety and find the solution for your home.
Contact
Do you have any questions or comments? We look forward to hearing from you.