The order could not be shipped.
The order was successfully shipped.
With the Bluetooth Smart Switch you can remotely control the lighting (consumers with the Bluetooth Low Energy standard) in your home. The switch is simply attached wirelessly to the wall and is particularly energy-saving, thanks to the "Energy Harvesting" technology.
Available in different designs
The Bluetooth Smart Switch is available in various switch ranges.
Connection
Networking takes place via Bluetooth connection.
Commissioning
The product is commissioned via the manufacturer's apps.
The most important at a glance
The Bluetooth Smart Switch is a smart light switch that allows you to control and network Smarter Home components via Bluetooth. The product can be combined with the switch ranges carat®, Busch-dynasty®, pure stainless steel, solo®, Busch-axcent®, Busch-axcent® pur and future® linear.
What makes the Bluetooth Smart Switch so special?
1
Ideal for retrofitting
The Bluetooth Smart Switch can be quickly and easily integrated into the existing electrical installation. Thanks to wireless mounting and reliable radio connection through networking as a mesh network, commissioning and installation of the Bluetooth Smart Switch is particularly easy.
2
Numerous options through BLE
You have the possibility to easily remote control consumers that comply with the Bluetooth Low Energy (BLE) standard, such as components from aruba, Casambi, enlighted, Fulham, Helvar, Hytronik, Qeedji, SILVAIR, Blu2Light (Vossloh Schwabe), WISILICIA, XICATO Controls.
3
Networking via Bluetooth
Networking via Bluetooth is not only particularly simple, but also very energy-saving. This means that the controls and components can be operated with energy harvesting in the long term.
Find your favorite switch range design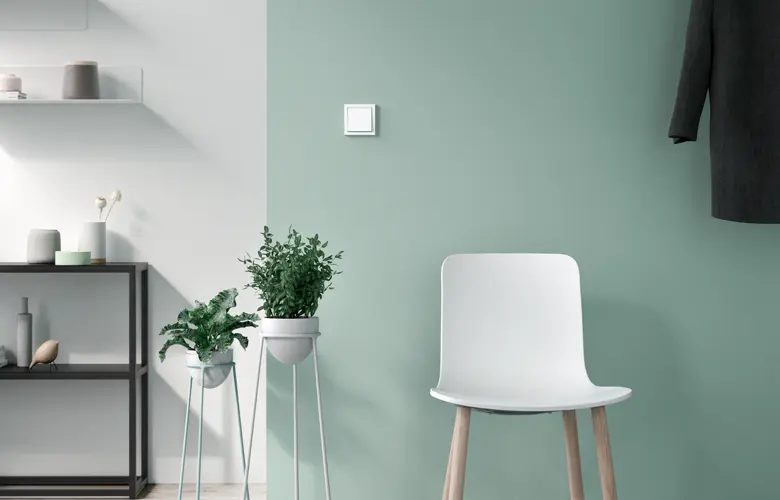 Find your favorite switch range design
Discover the diversity of our switch ranges and find the design that suits you and your individual style.
Discover our products at home
Discover our products at home
With our 3D and AR feature
You can now view our product portfolio live in 3D within your own home. You can access the feature via the '3D' button at the top of the page. Give it a try now!
Contact
Do you have any questions or comments? We look forward to hearing from you.