The order could not be shipped.
The order was successfully shipped.
Smart home technology and brilliant living quality
Show house, Bitburg
Not living for rent forever. No noise from neighbors due to bright walls. For once in your life, you can choose a beautiful floor or great tiles yourself. Creating a smart home through intelligent building technology and designing the living space in the long term to suit personal preferences. This is exactly why many dream of owning their own home. Inspiration, how such a thing could look, offers for example the model house Bitburg of the Streif house GmbH in the new building area Hammerwies in Bitburg in the Eifel.
The architect-designed house is a real smart home. This already starts at the front door. The Busch-Welcome® outdoor station welcomes visitors directly there. The high-quality color camera of the door communication system from Busch-Jaeger captures an extra-wide field of view and can be adjusted mechanically to suit any house environment. The images recorded in the process are stored on the Busch-free@homePanel® and can also be viewed later. Residents can also see who has just rung the doorbell via mobile devices.
The show home of prefabricated house provider Streif in Bitburg, potential home buyers can experience a smart home - intelligent building control from Busch-Jaeger.
Efficient energy supply and smart home technology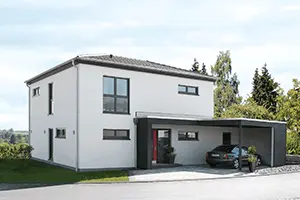 Efficient energy supply and smart home technology
Once inside the house, the room layout on the first floor provides for an open-plan living and dining area with integrated, modern kitchen and plenty of glass area towards the terrace. Two double doors and a sliding door provide a wonderful incidence of light. From the large children's room, guest room or study, residents enter a small bathroom with shower through a sliding door. The utility room offers plenty of space for washing machine and co. Next to it there is another room with direct access to the carport. And it is precisely here that the heart of Busch-Jaeger's smart home technology is housed - the System Access Point.
This device makes it possible to access the Busch-free@home® smart home system with a PC or tablet. Via an existing network or an ad-hoc connection via WLAN, the functions of the system can thus be defined and programmed quite conveniently. No special software is required.
The ingeniously simple home control adapts to the individual needs of the residents. Busch-free@home® can be operated very easily - with the Busch-free@homePanel®, smartphone and tablet or by switch, such as Busch-axcent from the Busch-Jaeger switch range, which is installed in the Bitburg house. Without much effort, effective light scenes can be set and individual time programs can be entered to control heating and blinds. For example, presence can be simulated with time-dependent operation of lights and shutters when the occupants are absent to deter burglars.
Optimal energy efficiency is ensured by fresh-air heat pump technology and a controlled ventilation system with heat recovery. As a result, the Bitburg house is a KfW Efficiency House 40.
Remote access to Busch-free@home® and Busch-Welcome® via the myBUSCH-JAEGER portal offers optimum security. This is because it enables e-mails or messages to be sent to smartphones with the Busch-free@home® app installed. For example, you can be conveniently informed if a window has not been closed. Calls from the Busch-Welcome® door station are also forwarded directly to the mobile device. An ideal control for on the go. The cloud-based voice service Amazon Alexa can now also be integrated into Busch-free@home®.
The spacious roof terrace invites you to dream
he highlight of the Streif Haus Bitburg is the 25 square meter roof terrace. Especially for small properties with little garden space, this design offers a comfortable retreat in the fresh air. Since the terrace is partially covered, it protects against both sun on hot days and wetness during summer rains. Outdoor lounge furniture transforms this spot into a feel-good oasis.
Upstairs is the bedroom with generous double doors to the roof terrace. For even more luxury, a large walk-in closet adjoins the bedroom. From here, residents enter the modern and comfortable bathroom with freestanding bathtub. The toilet and shower each disappear behind a partition wall, giving residents enough privacy. The third room on this floor can be used as a children's room or office and also has direct access to the roof terrace.
Individual living quality and living dreams can be lived out on a total of around 150 square meters. In addition, the intelligent building technology enables maximum energy efficiency, safety and comfort. Thus, the own four walls fulfill all criteria for a living area to feel good.
Pictures: Streif Haus