The order could not be shipped.
The order was successfully shipped.
Living with a view
Floating Homes, Hamburg
The seven Floating Homes are located on Hamburg's Victoriakai shore. Since 2014 the floating pearl necklace on the Victoriakai on the Mittelkanal shines in its completeness. With 116 square meters, the D-type houses offer plenty of space for individual living and furnishing options. The floating houses were implemented by the company Floating Homes GmbH.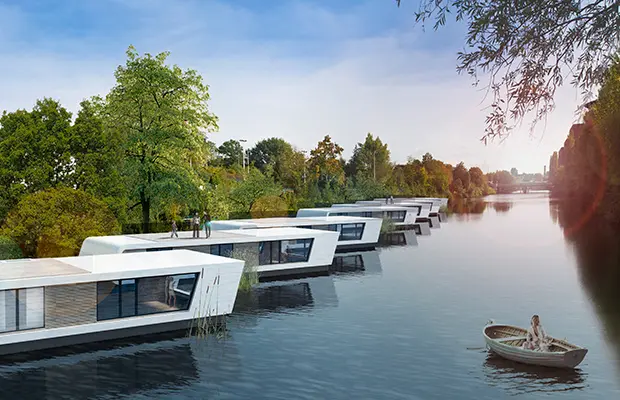 High ceilings, light-flooded and generously sized rooms with a pleasant indoor climate are just some of the features of the extraordinary floating homes that are characteristic of the Floating Homes GmbH company.
Live individually in the middle of a metropolis and indulge in nature in a relaxed way with a fantastic panoramic view of Hamburg's canals. The idyllic living on the water offers a clear added value: You live where others go on vacation. Whoever wants to, casts his fishing rod at the end of the day or dangles his feet in the water. Harmoniously and surrounded by the green, the trees and bushes on the shore, the water colony lies quietly in the high water basin.
The interior design is completed by the light switch range future® linear.