The order could not be shipped.
The order was successfully shipped.
Varied history
Opera House, Wuppertal
In 1907 the original building of the opera house was constructed according to the designs of the Cologne architect Moritz. This building, a mixture of the neo-baroque and art deco styles popular at the time of its construction, was severely damaged in an air raid near the end of World War II. On Sunday, October 14, 1956, the house was opened with a ceremonial act and a gala performance of Paul Hindemiths opera Mathis der Maler. During the renovation, planners deliberately dispensed with the "hard-to-digest language of shapes of art deco" (!) as the master builder and head of the Wuppertal Building Department Prof. Hetzelt called it. Despite the old building envelope, it was a structure built according to the aesthetics of the 1950s. As a significant example of this (interior) architectonic direction, it is now listed as a historic monument.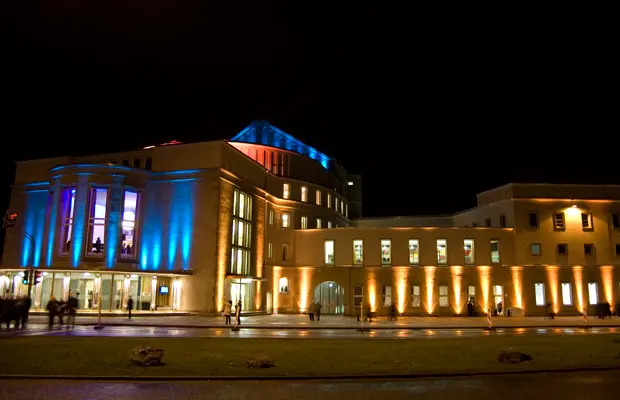 Due to a fire protection expert report, the closure of the opera house for renovation in December 2003 was unavoidable. In January 2009, the newly renovated opera house was handed over to the stages and the audience in a ceremonial act.