The order could not be shipped.
The order was successfully shipped.
Modern age in the heart of Hamburg
LES EINS, Hamburg
The modern, 10-storey commercial and office building is situated in the heart of Hamburg. The ground floor includes shop areas on the street side and a catering area toward the water side. The two set back stepped storeys are situated over the eight normal storeys. This has resulted in attractive roof terrace areas on the eighth storey which provide a view of Michel, Elbphilharmonie, Alster and Elbe.
The Ludwig-Erhard-Strasse 1 project is located in a central location in Hamburg as connecting link between the inner city and Elbphilharmonie.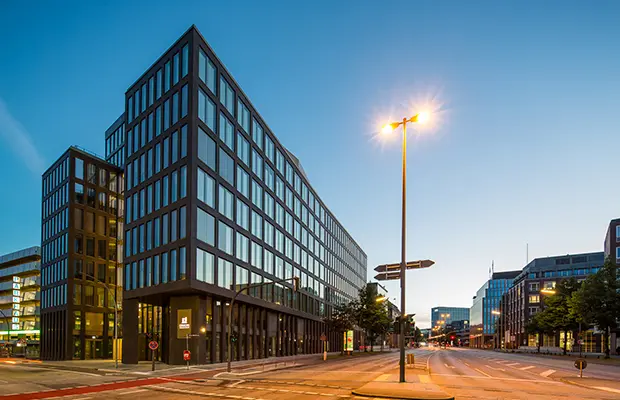 The representative character of the building is accentuated by the high-quality of the materials, such as the facade made of basalt with anodized window trims or the natural stone floor in the foyer area. The high architectural standard is seen both in the selection of high-quality materials as well as the well-thought-out solutions for modern office worlds.