Making home automation easier than ever
Those who network their homes make their life easier: Blinds, light, heating, air conditioning or door communication are easy to control and can be regulated to your personal requirements with Busch-free@home®.
Our smart house control is ideal for both new construction and renovation projects. You can use the various functions individually or combine them with other application scenarios. This means that you determine the type and number of functions that you want to intelligently control yourself.
Control
Switch
Panel
Voice Control
Smartphone
Tablet
Web Interface
Age of the property
New building
Holdings
Renovation
Functions
Everything-off function
Presence simulation
Window monitoring
Heating and air-conditioning
Blind control
Video surveillance
Individual scenes
Light control
Panic switch
Sound
Door communication
Weather station
Home appliance
Smoke detector
Alarm system
Astrofunction
Timer
More features of Busch-free@home®
Ideal for residential construction
Single-family houses, apartment buildings, flats
Suitable for new buildings, renovations and refurbishments
Small and elegant designs
Easy installation and commissioning
Intuitive operability
Diverse applications
Blind-, light-, heating and climate control
Door communication seamlessly integrated with
Individual Astro- and time programs
Personal scenes to combine functions
Integration of cooperation partners
Presence simulation
Everything-off function
Automatic draft shield
Remote access
Everything-off function
Switch off all devices simultaneously
Without complex programming, as pre-programmed
System Access Point 2.0
Heart of the smart home system
Visualization for Busch-free@home®
Commissioning interface for all third-party and Busch-Jaeger systems as well as cloud services
Greater connectivity in the smart home
Several mounting options: table top with rubber feet, wall mounting, DIN rail mounting
eExternal power supply
BuschECO-System
The Busch-free@home®, Busch-Welcome and Busch-AccessControl systems work hand in hand with each other and fall under the BuschECO-System. Together they offer a holistic answer to the question of modern Smart Home Management.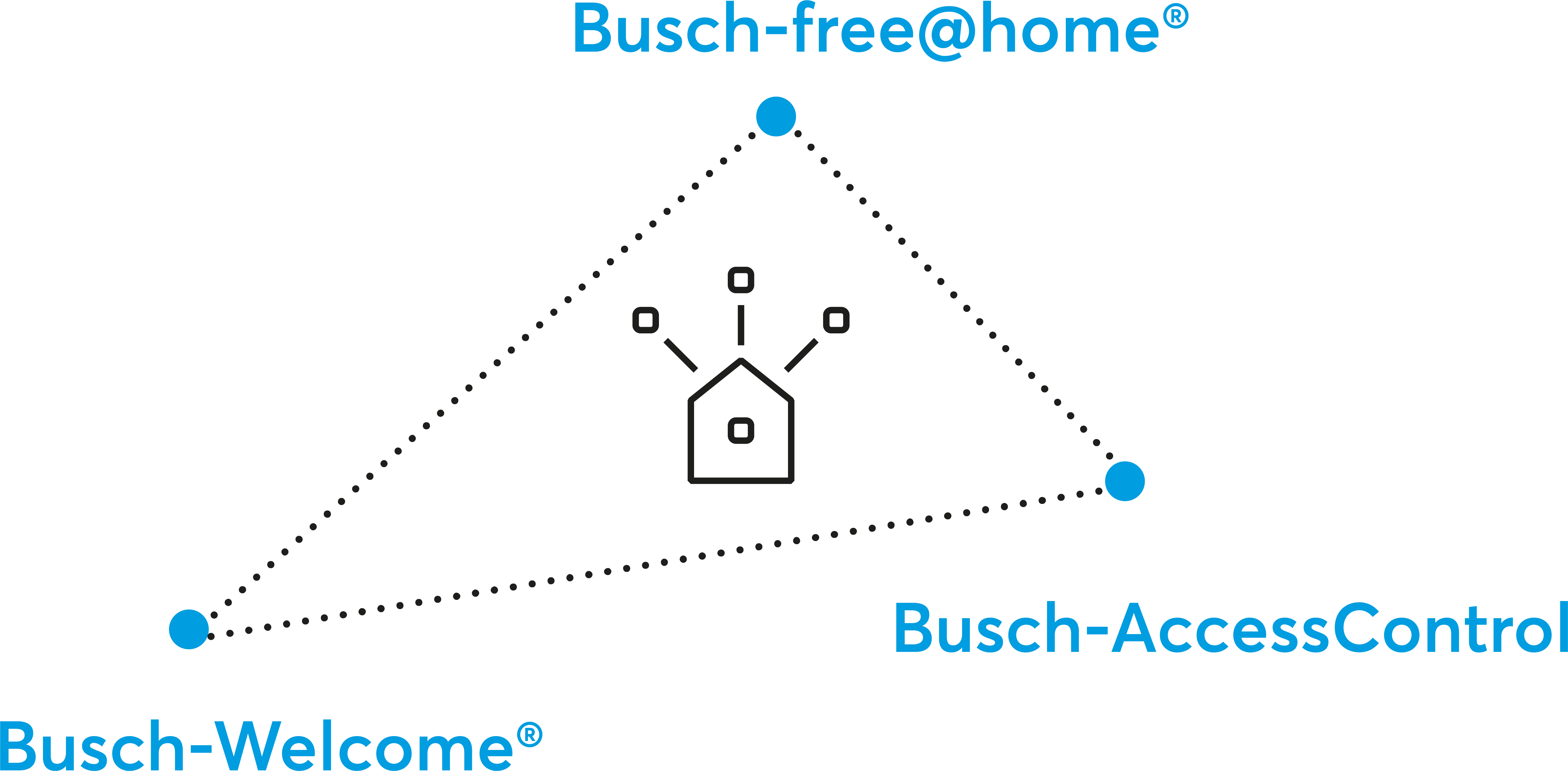 ---
Further integrations
External suppliers of products and services that have integrated the interface to Busch-free@home®.

Olisto
Use Olisto to create real-time connections between multiple devices, applications and services.
Remote access
The remote access makes possible the comfortable and mobile access to your Busch-free@home® system. With the remote access you can receive information about your home while travelling and you can also control it.

The remote access is very easy and safe to set up via myABB-LivingSpace or myBUSCH-JAEGER. The remote access is also retained when changing to a different Internet provider or when changing the WLAN router. You need to make no settings on your WLAN router, nor have IP know-how. BUSCH-JAEGER is responsible for the availability of your remote access.

Prerequisite for the use of the remote access is the installation of the iOS or Android Busch-ControlTouch app, available free of charge at the respective shops.

A subscription of the remote access includes up to 10 devices.

A subscription with a contractual period of 30 days is concluded. The contractual period extends automatically by the same period. The subscription can be cancelled at any time within the contractual period of 30 days. The subscription costs € 2.49 per 30 days.
Busch-free@home® is now VDE-certified
Intelligent home control has never been so simple - and above all safe
Both the cabled and the wireless components of Busch-free@home®, the Busch-free@home® app of the iOS and Android version, and the remote access via myABB-LivingSpace have been tested by the VDE with regard to the security of information and have passed it as being secure. This enables users to enjoy the entire diversity of the Smart Home functions – even when travelling.