The order could not be shipped.
The order was successfully shipped.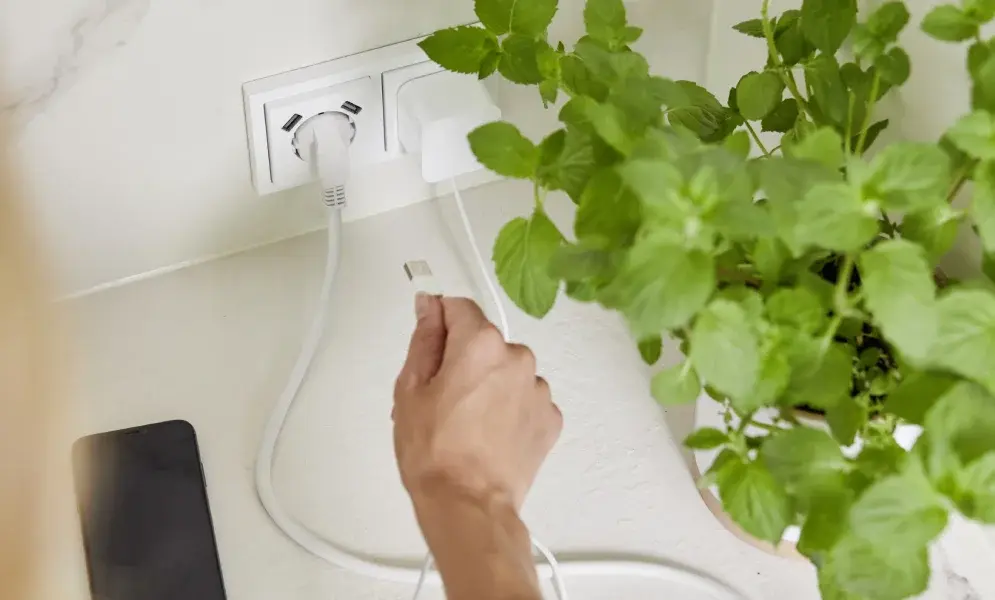 Busch-Jaeger
USB socket outlet
A socket with USB ports is a practical addition and a useful helper in everyday life. It offers convenience and functionality, because it allows you to charge electronic devices easily and quickly, without the need of additional adapters.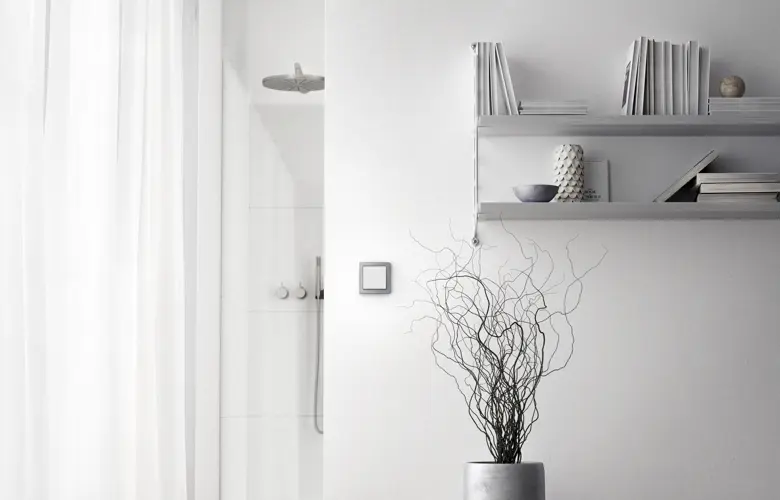 A USB socket outlet is a combination of conventional sockets and USB ports. It makes it possible to charge electrical devices via a USB port and at the same time use conventional sockets to power other devices. With a USB socket in combination with conventional wall sockets, high voltage (230 volts) is safely combined with low voltage (5 volts).
Why a socket outlet with USB port?
Using a socket outlet with a USB connection offers you numerous advantages.
First of all, such an outlet is convenient because it provides an efficient way to charge devices, such as your smartphone or smartwatch, without the need for a separate adapter. It also allows you to charge multiple devices at the same time, which makes it easier to ( still ) use multiple devices at the same time. The installation also offers you advantages, because the USB outlet does not take up more space than a conventional outlet, so there's no need to make any structural changes in your home to create additional charging options. The socket with USB connection can simply replace the existing conventional sockets.
You've probably come across a rectangular USB-A plug in your everyday life. For years, this was used to connect various small devices to computers or laptops. However, the USB-C port has also been used for a few years now. Numerous devices are already equipped with it as standard.
The most visible difference is the shape of the two ports: The USB-A port is larger and rectangular, while the USB-C port is smaller and has a more oval shape. USB-A is a single-sided port, which means it can only be connected to a device in one direction. USB-C is a double-sided connector, meaning it can be connected to a device in both directions. In addition, USB-C supports higher data rates than USB-A and can also power devices that support it, so a laptop or smartphone can be charged via the USB-C port.
Another important difference between USB-A and USB-C is that USB-C offers a new standard for USB technology called USB 3.1. This new standard supports higher data rates and allows video and audio data to be transferred over the same cable. USB 3.1. also allows multiple devices to be connected to a single USB-C port via a hub.
In addition, the European Parliament mandates that all mobile devices in the European Union must be equipped with a USB-C port. From December 28, 2024, a USB-C port will be mandatory on various devices, including smartphones, headphones and portable speakers.
In short, USB-C is the newer and more versatile USB port that supports faster data speeds, can power devices, and can connect in both directions. However, USB-A is still the most commonly used USB connector.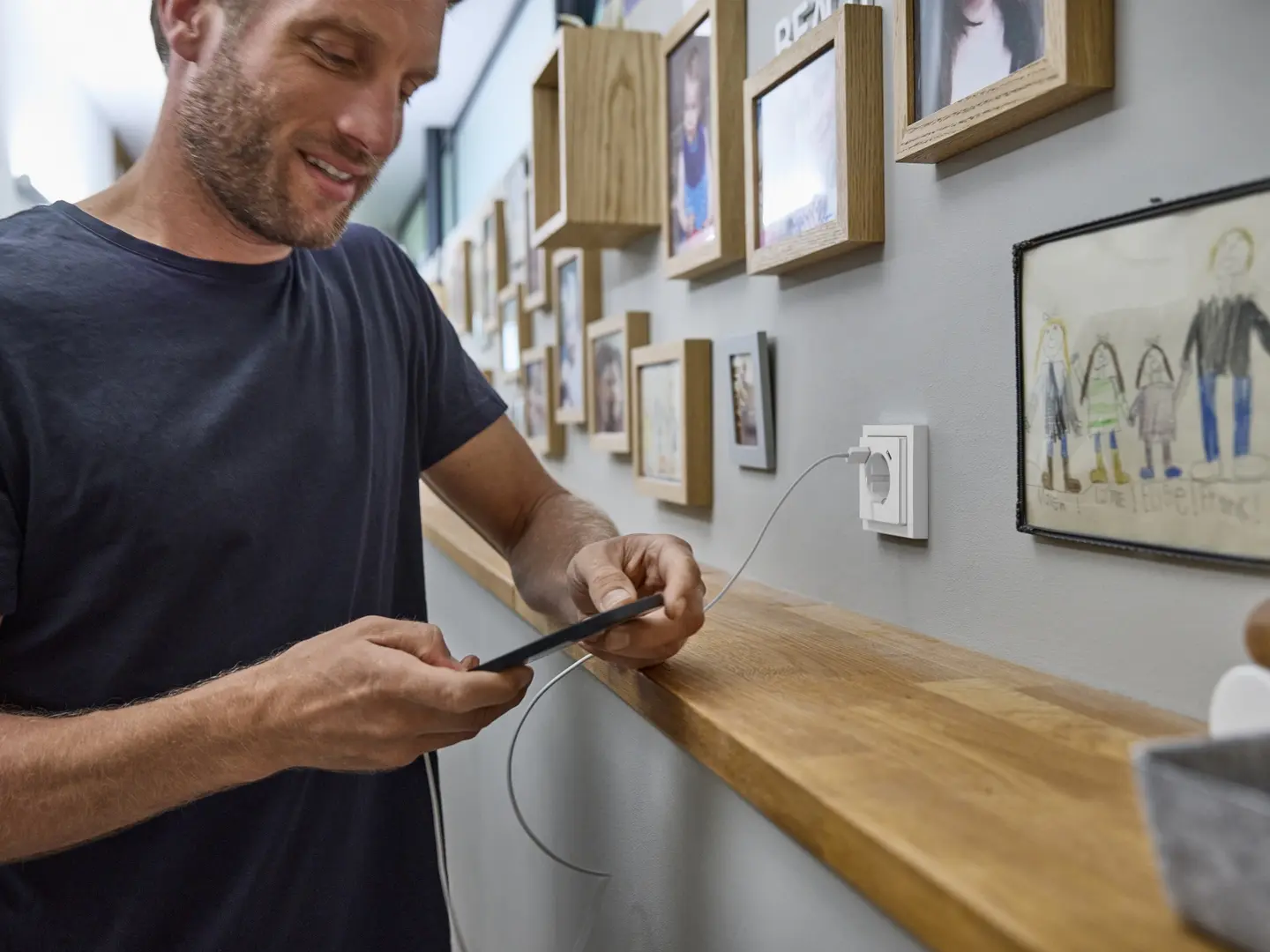 Dual USB port
Sockets with USB ports come in many shapes and sizes. There is the standard socket with two USB ports, on which you can conveniently charge two smartphones, tablets or other mobile devices without adapters. It provides the solution to the discussion of which device may be charged first. The integrated increased contact protection of the SCHUKO® socket outlet with two USB ports provides additional safety. In addition, this socket outlet is extremely economical. For example, power consumption in standby mode - when no devices are being charged - is less than 0.1 W, which is only about 20 cents per year.
A USB power socket is ideal for using larger devices. With it, you can easily charge up to two smartphones, digital cameras or similar battery-powered devices.
Want to charge your devices completely wirelessly? Then opt for a charging station with a charging plug. Simply plug your smartphone into the charging station and you'll always be able to charge it without a cable in the same place in your home.
Our product range
You can choose from a wide range of USB sockets. For example, some USB sockets have higher power and can charge faster, while others are only suitable for charging smaller devices such as smartphones and tablets.
A built-in outlet with USB ports can be installed in almost any room, for example, in the kitchen, bedroom or study. It is also a practical addition to offices and waiting rooms, where people often need to charge their smartphones or tablets.
In short, a built-in socket with USB ports is a convenient and modern addition to any home. It offers you convenience and functionality, making charging electronic devices quick and easy, without the need for additional adapters.